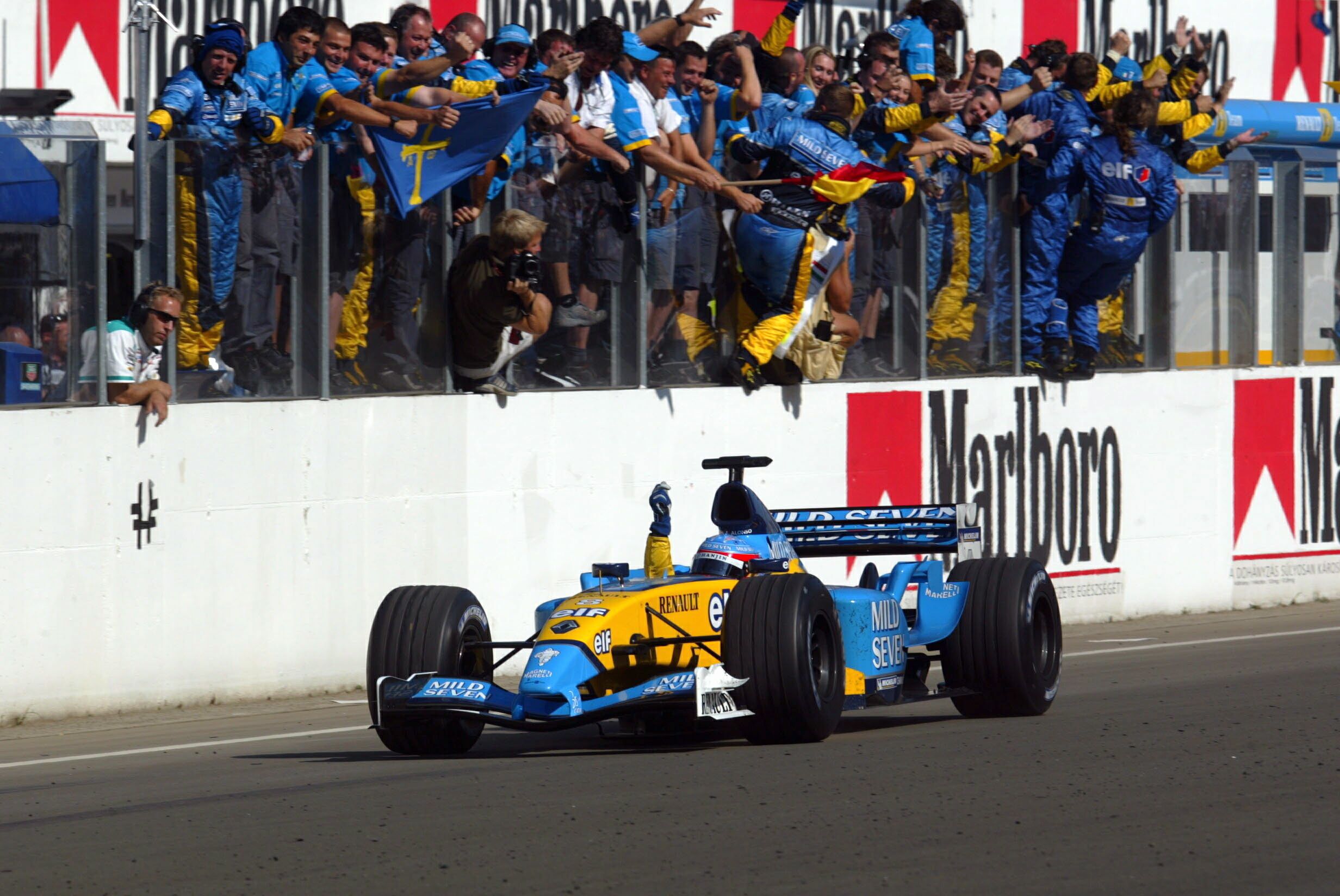 4 Drivers Who Took Their 1st Win At The Hungarian Grand Prix
Laura Leslie runs through the 4 drivers who were lucky enough to take their maiden wins at the Hungaroring.
4 Drivers Who Took Their 1st Win At The Hungarian Grand Prix
3 times in his first 12 races Damon Hill could have been a Grand Prix winner. Instead the Briton had to wait until his 13th race start to finally take a popular maiden win and seal a place in history alongside his champion father, Graham.
In Spain, Britain and Germany Hill had come agonizingly close to winning only to be denied by 2 engine failures and a blown tyre. He went into the Hungarian Grand Prix in a determined mood and qualified just 0.204s away from Williams-Renault team-leader and then 3-time champion Alain Prost.
Prost then stalled on the grid leaving Hill at the front of the grid alone to battle off a hungry Michael Schumacher and Ayrton Senna. Schumacher fluffed his start and dropped down the order, while Senna put up a valiant fight in the first few corners before Hill managed to pull out a 1.7s gap at the end of lap 1. Hill would continue to pull away and his main rivals succumbed to DNFs.
Hill won by over a minute from the Benetton of Ricardo Patrese, becoming the 14th Briton to win an F1 race and the 148th victory for a British driver. Hill would win a further 19 races in his career and became world champion at the end of the 1996 season, meaning Damon and Graham were the 1st ever father and son duo to be world champions in F1 history.
Fernando Alonso had already made history in 2003 by becoming the youngest ever polesitter at that year's Malaysian Grand Prix. By Hungary his star was shining more brightly than ever and he once again stuck his Renault on pole, but this time there was no doubt over his potential race pace.
Alonso won at an absolute canter and even lapped the reigning world champion, Michael Schumacher. Alonso beat fellow young hotshot Kimi Raikkonen by just over 16s and the pair were joined on the podium by Juan Pablo Montoya. All 3 drivers had made their debuts in 2001 and now they had made the youngest ever podium in F1 history with an average age of just 24 years, 7 months and 12 days. This record would stand for over 5 years.
Alonso was the 1st driver from Spain to win a grand prix and the youngest ever winner of a race at , beating Bruce McLaren's 44 year old record in the process. Alonso has since won another 31 races and won the world championship in 2005 and 2006.
113 races. That's how long Jenson Button had to wait before he scored his maiden F1 win. At the time only Jarno Trulli (117) and Rubens Barrichello (124) had done more races prior to winning for the 1st time.
Button didn't take his 1st win the easy way either. A blown engine in free practice left his Honda team needing to change the entire unit before qualifying, this left Button down in 14th on the grid after a penalty. Sunday brought rain and for the changeable conditions master Button, it was perfect.
Button made a great start and quickly made his way up into the top 10 before gradually working his way up the order to sit in 2nd behind Fernando Alonso. A safety car helped Button close the gap to the Spaniard, but backmarkers meant he was still 9 seconds down even when the safety car came back into the pits. Button was quicker than Alonso at this stage of the race and was right on his tail the tail prior to Button making a pitstop. The British driver had chosen not to change his intermediate tyres and thus would have to stop again as the track continued to dry. Alonso chosen to stop later and put on dry tyres, meaning all he had to do was catch Button and wait for him to also pit for slicks.
Instead Alonso was out of the race by the time he could get to T3 on his outlap, a loose wheelnut causing his car to spin off into the barriers. Button was given a clear fun to the flag and took Honda's 1st win in over 39 years.
For Heikki Kovalainen a contract with McLaren-Mercedes promised wins, possibly titles and a lot of trophies. As it was, Kovalainen only managed 1 win and 3 podiums in his 2 years with the Woking based squad. His win came at Hungary in 2008 and was only possible thanks to an enormous slice of luck as well as Kovalainen being in the right place at the right time.
It was a McLaren 1-2 on the grid and a McLaren 2-3 by T2 on lap 1. Felipe Massa got the jump on poleman Lewis Hamilton and Kovalainen to lead. The Ferrari driver built up a gap and took Hamilton with him, leaving Kovalainen in a distant 3rd.
Later in the race Hamilton flat-spotted his front-left tyre in his desperation to keep up with Massa. This tyre eventually would deflate and dropped him out of contention to win the race. Kovalainen moved up to 2nd, but was a long way behind leader Massa. Then just 3 laps left Massa's engine blew up as he went down the start-finish straight. Suddenly Kovalainen was leading and had a 10+ second gap to the Toyota of Timo Glock in 2nd.
Kovalainen thus became the 4th Finnish driver to win a grand prix, after Keke Rosberg, Mika Hakkinen and Kimi Raikkonen. Kovalainen would only visit the podium once more in his career after his win, at the Italian Grand Prix the same year where he finished 2nd. He was the 30th driver in F1 history to remain a 'one-win wonder and was actually the 100th different driver to win an F1 championship race.